Shrimp Scampi
Monday, September 15, 2014
Our local grocery store is called HEB. We have a few other smaller grocery stores but HEB is the go-to and they are everywhere.
This is my parent's. Via
Well, they have this special (read more expensive) one called Central Market (also known as Gucci-B).
They have things like purple snow peas, 20 different kinds of tomatoes, and organic ev.ery.thing.
We usually don't head over there unless I'm craving dark chocolate. But this weekend they had a great sale!
Jumbo shrimp were half off! So we braved the Sunday-shoppers, ate every free sample there was, and bought two pounds of never-frozen, headless, jumbo shrimp.
I decided to make Shrimp Scampi to really taste and revel in the awesomeness that is the crustacean. Shrimp Scampi is really easy to make and it tastes light, summery, and bright with tons of lemon thrown in.
Shrimp Scampi over Whole Wheat Linguine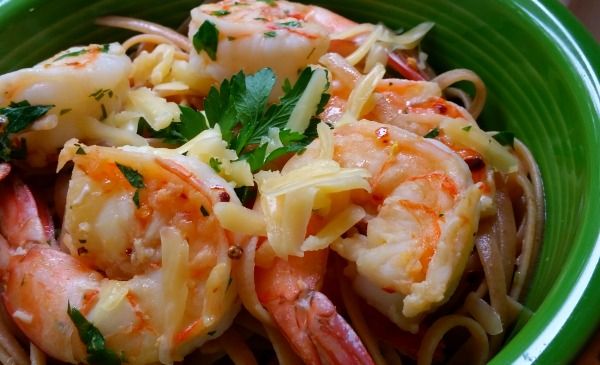 Prep time:
10 minutes prep & 30 minutes to marinade
Cook time:
10 minutes
Total time:
About 50 minutes
Ingredients
1 package

whole wheat linguine

1 lb

shrimp - deveined, peeled but you can leave the tails on

3 tbsp

parsley

1 -3 tbsp

red pepper flakes

2

lemons (juice & zest)

2 tbsp

olive oil

salt & pepper to taste

cheese for topping
Cooking Directions
You'll want to marinate the shrimp for at least 30 minutes. So take a bowl and mix the olive oil, red pepper (I added about 3 tbsp but you might want to start off with just one), the lemon juice, the lemon zest, parsley, salt and pepper. Give it a little stir and dump it onto the shrimp. Make sure that both sides of each shrimp gets coated. Put it in the fridge.
When you're ready to start cooking - make the pasta according to the package instructions.
While that's going - take a pan and put your burner on medium heat. When the pan is nice and hot take your shrimp and put them down. I used tongs and remembered what order I put them down so I knew where to start when it came time to turn them. I also dumped all the rest of the marinade into the pan. Shrimp cooks really fast so you don't want to leave them and do laundry or whatever. As soon as they turn opaque they can be turned. Mine took about 2-3 minutes on each side. By this time my pasta was done, so I drained it and added it to the pan and gave everything a good little swirl to get some of that marinade on the pasta.
Plate it up, add some fresh parsley on top, and some cheese - then dig in!