Book Swap!
Saturday, June 21, 2014
About a month ago I signed up to be part of a Book Swap. I got paired with the the host, Tiffany at Endless Bliss and I couldn't have asked for a better partner!

Not only do she and I share a love for YA books but also apparently for men named John (though her BF spells it without the H).

We emailed a lot and I got to know her really well. I couldn't wait to check my email and see if she had written back yet. Talking to her was fun and easy. It wasn't hard to find things we had in common.

Which, you would think, would make it easy to pick out a book for her right?


I love book browsing and shopping but when it's for someone else I get really nervous.
What if they don't like it? What if the jacket sounds good but the inside is all wrong? What if she already has it!?
I ended up choosing two books for her that I hope will interest her. I can't wait to hear what she thinks of them - good or bad!
She got me two books, both the first in their respective series, and the cutest crawfish postcard ever!
I mean, seriously, look at that postcard.
Book # 1 is
Burn for Burn by Jenny Han & Siobhan Vivian
.
I started reading it that night and though it was hard to get into at first, once I hit a certain point I couldn't stop.
Burn for Burn is a book about three girls, who aren't friends, and have nothing in common except for wanting to exact revenge on classmates. They eventually decide to help each other out, Stranger on a Train style.
I'm not usually one for revenge stories but once the girls started becoming friends and developing real feelings for each other, I couldn't put it down. I had to know what happened. Did they get caught? Did their plans work?
It was a good fast read and I can't wait to read the second book -
Fire with Fire
. The third and final book,
Ashes to Ashes
, should be coming out later this year.
The second book she got me was
Cinder by Marissa Meyer
. I haven't started reading it yet, but I seriously can't wait. I mean...look at that cover art!
This whole experience has been the best. It's always great to have friends who like the same things as you. This was great in a whole different way because you're able to actually MEET someone and then talk about things you love together.
Hopefully this will become a regular exchange because it really was something I greatly enjoyed.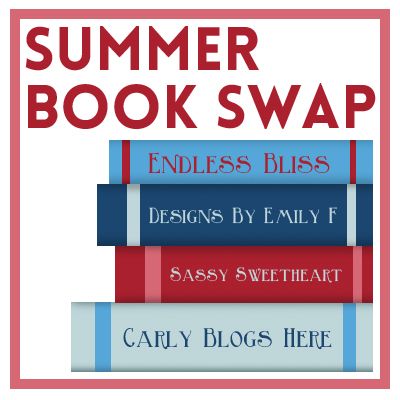 You can head on over to
Endless Bliss
to see all the other book swap partners.