Easy S'Mores Weeknight Dessert
Friday, June 12, 2015
This shop has been compensated by Collective Bias, Inc. and its advertiser. All opinions are mine alone. #LetsMakeSmores #CollectiveBias #sponsored



This past fortnight has been pretty crazy. I put my two weeks in at my TV job, got hired at a non-profit, and we went on vacation to New Orleans. Needless to say now that we're back home our lives have been pretty hectic. There's lots to catch up on but just because we're busy doesn't mean we can't bring a little summer into our home...particularly our weeknight desserts.
S'mores
are the perfect summertime treat because they're so versatile.
After coming back from vacation we needed to stock up on some essentials at Walmart. When you need toilet paper and foodstuffs Walmart is just easy. While we were grocery shopping, we came across this S'mores display. They have everything you need in one spot: Hershey's bars (I got them in a pack of 6 full-sized bars --ummm yes please!), Kraft's Jet Puffed Marshmallows, and of course Honey Maid Graham Crackers. Obviously I grabbed all the ingredients, planning on making them that night.
Well, by the time we got home it was late and both John and I were tired. It didn't look like we'd be eating s'mores until I thought...why not just make them inside? It was like a light bulb went off. Of course you can make s'mores inside! No fire necessary. All you need is an oven with a broiler and a microwave. Seriously. Oh, and about 10 minutes. If you've got all that you're on your way to eating some chocolaty, gooey, crunchy s'mores.
So first thing first: gather up all your ingredients.
The graham crackers are already in squares which is perfect!
Next turn on your broiler. While that's heating up you'll want to grab your marshmallows and your graham crackers. Line up the crackers on a baking sheet with a marshmallow on top.
Put them under the broiler for a minute or two. While the marshmallows are toasting you're going to open a Hershey's bar and break it into a microwaveable container.
Microwave it for about 30 seconds to a minute. When it comes out, stir it until all of the bar is fully melted.
By this time your marshmallows and your graham crackers should be browned. Take them out. But be careful because they'll be hot!
Perfection.
Allow the marshmallows to cool for a second. While they're sitting, take another graham square and cover it with your melted chocolate. You can dip in a corner or spread a thin layer with a spatula across one side.
If you want a traditional s'more then plop that chocolate covered graham on top of your marshmallow and enjoy but if you want a little something extra try adding some nuts or coconut!
What I really like about melting the Hershey bar is the fact that you get that gooey deliciousness in each bite. We each had one and then split the last one. They were sooo good! Plus, they were super easy. So if you don't have any camp fires burning don't sweat it - just make some s'mores in your kitchen!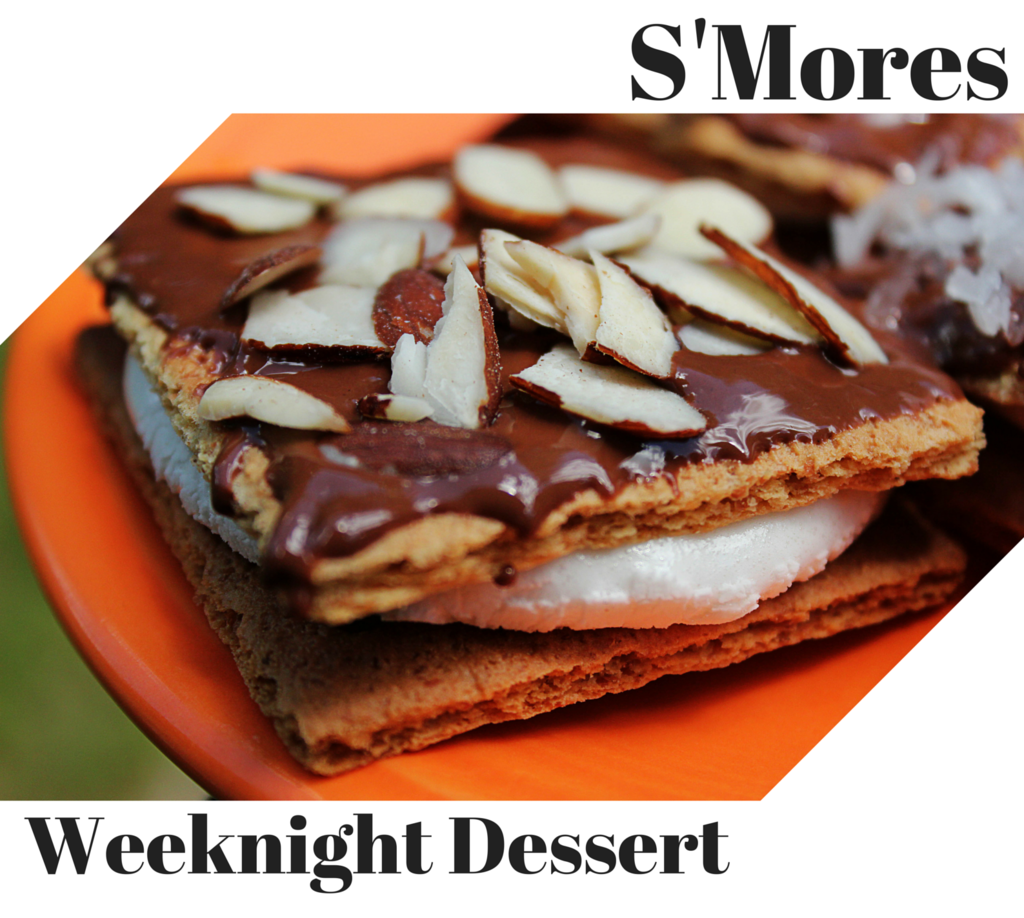 Easy S'mores Weeknight Dessert
These easy s'mores are done in under ten minutes and don't even require a campfire.
Ingredients
1

Hershey's Chocolate Bar

3

Kraft Jet Puffed Marshmallows

6

Honey Maid Graham Crackers

Optional

Pecans, Almonds, Coconut Flakes
Instructions
Turn on your broiler.
On a baking sheet put down three graham crackers. Put the three marshmallows on top of each graham cracker.
Put the baking sheet under the broiler for one to two minutes or until the marshmallows are toasted.
When they're done, take them out and let them rest until cool enough to handle.
Break apart your Hershey's bar into a microwavable safe bowl.
Microwave your Hershey's bar for 30 seconds to one minute. Stir until all of the chocolate has melted.
Take your three graham crackers that weren't under the broiler and either dip them or spread the melted Hershey's on one side.
Top the chocolate covered graham square to your toasted marshmallow and smoosh.
If you want, add some nuts or coconuts flakes to the melted Hershey's.
Details
Total time:
Yield:

3
What are some of you favorite s'mores recipes? Do they make you think of summertime too? If so, what are some of your favorite memories where you were eating some s'mores?